In November 2016, Lorraine Benton became the first artist to take part in the Little Van Gogh residency.
The residency gave Lorraine a week's exclusive use of a cottage in the New Forest, Hampshire, a location known for its inspiring scenery and wildlife.
"We launched the residency to invite artists to take a creative leap in their art practice," says Little Van Gogh Director Chloe Adams. "And we were delighted to have Lorraine as our first artist in residence – she grabbed the opportunity with both hands and made it her own."
The entrants were co-judged by Southampton City Art Gallery Curator Tim Craven. "Being able to experience a new environment is a brilliant way for artists to kick start new ideas," he said. "The launch of Little Van Gogh's annual residency will have a really positive impact on the development of all the artists who take part."
We caught up with Lorraine after completing the residency to find out about her experience.
First of all, congratulations on being made Little Van Gogh's first ever Artist in Residence, Lorraine.
Thank you! I was so surprised. I've never done a residency before so I was really excited to be offered this amazing chance.
How did you prepare for your week in the New Forest?
Well, I decided that I wanted to spend the residency doing something completely different and new for me. This started off with lots of thinking and dwelling on what I wanted to do – mainly while doing the hoovering! – and also lots of YouTube research into art techniques and materials.
I then went for it, and started buying things that were entirely new to me – spray paints, pouring mediums, inks, painting boards, squeezy bottles – plus some expensive brushes as an extra present to myself.
How did the residency studio compare to where you usually work?
The studio was in a conservatory, and bigger than my space at home – which was great as it meant I could work on a couple of pieces at the same time.
Also, I went on my own. As a wife and mother, that was helpful for me in not having any distractions. I didn't lose my focus that way, which is ideal for me as I can easily paint for 14 hours straight.
You usually split your time between the UK and the French Alps; how was your experience of a week in the New Forest?
Well, I love trees – being around them makes me feel peaceful and alive. I also have a thing about light, so the New Forest was great.
My creative process begins with photography, so I went out exploring on several occasions. A photo I took on a bitterly cold day stands out – it was an incredible winter scene with an overflowing frozen stream, full of textures and reflections.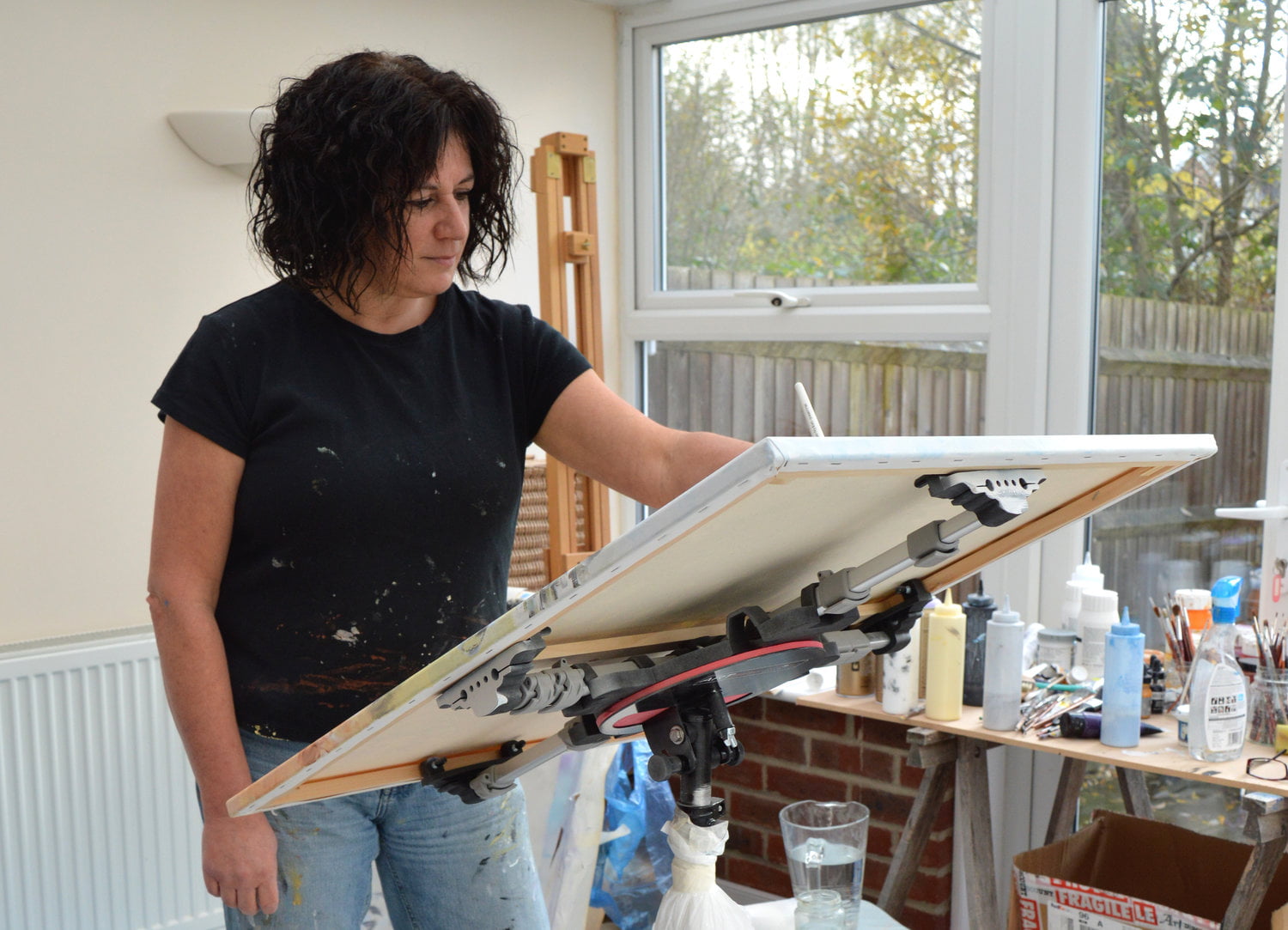 What kind of work did you create during the residency?
Because I started with a conscious decision to do something completely different, the first few days were like having a play really.
I had lots of fun experimenting and discovering which materials I liked to work with – for example, I found that I could almost draw with the pouring medium if I was careful where I spilt it – plus finding out which materials I didn't like!
With so much time, I was able to create lots of pieces at once, working in layers. By the end of the week, I'd completed six large paintings, all with quite a different style to my usual work. I'd also gathered lots of ideas for other new pieces.
How did the residency impact you personally?
As someone who studied art as a mature student, at times it's been hard to concentrate on art with a family and my part-time job as a pharmacist. I had become a bit deflated about my skills, and began to worry that I was kidding myself about what I could achieve.
But being awarded the residency made me feel believed in, which is so important. It also allowed me to break down what I thought I understood about my work and my style, and to learn about myself.
Finally, what advice would you give to an artist preparing for a residency?
I think the most important thing is to plan to try something new – don't just continue doing what you're already doing. Arrive with a clean slate and no preconceived ideas.
For me, the Little Van Gogh residency was an amazing chance to focus and be productive, but also to experiment and do something completely fresh, and learn a lot in the process.
The first Little Van Gogh residency was also a positive experience for the Little Van Gogh team, who had planned the launch of the programme over several months.
"We're already excited about next year's residency," says Chloé. "We're looking forward to inviting more Little Van Gogh artists to take time away from their normal environment in 2017 to experience something new."