We talked with Stuart Green about his discovery of oil bars and how a trip to Australia changed his whole perspective on colour and texture.
What inspires you?
I enjoy driving through the landscape and still get inspiration from a glimpse of red from a poppy field or a slash of rape yellow almost on the horizon. I then can't wait to get back to the studio and put it into a painting.
How has your practice changed over time?
For many years I have been teaching a "paint with oil pastel "workshop and this led to my re-discovering oil bars! Oil paint in a candle sized tube which enables one to work on a much larger scale than with a pastel. My practise now is to quickly establish a structured under drawing on the canvas with oil bars and then, using painting and palette knives, apply layers of oil paint, often scratching through to the base colours.
I now paint in a semi abstract way trying to create a sense of place and a sense of space building on a patchwork field grid. Often I will apply the paint very freely over the initial grid, to discover marks colours and shapes that will enrich the surface of the painting. This is all based upon the vast number of drawings that I have done around the world and which are now buried within me, within the melting pot of memory and which are desperate to be made apparent!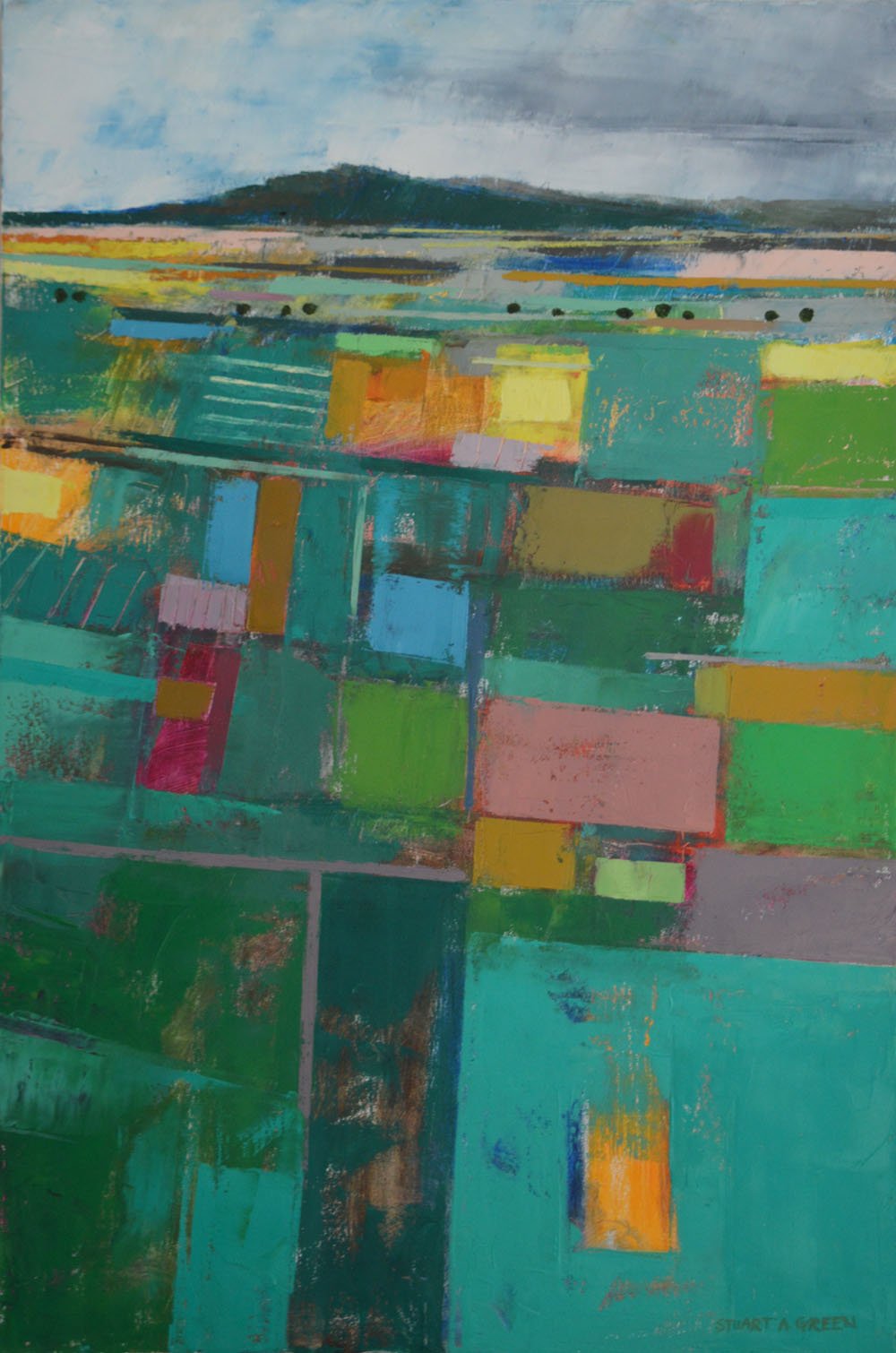 What's your favourite artwork?
Artists that have inspired me include David Hockney, Richard Diebenkorn and Barbara Rae. But my favourite painting is by David Prentice (1936-2014), one of the most outstanding landscape painters of his generation and the most pre-eminent artist to depict the Malvern Hills. "Apogee" is perhaps my favourite of his oils. I do think that perhaps the reason I love his work is that he is from my home town!
Describe a real-life situation that has had a direct impact on your work?
By inclination I have always been a painter of landscape and continued to produce images that where of or about "England's green and pleasant land." With reasonable success. The main problem was that although I had many holidays to do my own thing, the process was often two steps forward and three back, in preparation for a return to school life! Retirement has obviously changed my life.
But what changed my life before that was a teaching exchange to Australia in the late 1990s. I went to teach in New South Wales and that experience lit a touch paper to colour and texture for me. I literally saw the world from a different perspective. Flying around the world tends to do that for you.
What's the best piece of advice you have ever been given?
Always remember the landscape begins under feet and finishes way above your head. That I think was the best piece of advice I have been given.