If artist Orna Scheerson-Pascal embodies anything, it's self-expression. Her rhythmic, technicolour paintings radiate energy, joy and confidence and it may surprise you to learn that contrary to her brazen work, she was a timid child at school.
"I was very shy but not for my work, with my art I never cared if people said anything," explains Orna, "at school I never really listened, I was always decorating my notebooks."
From the city of Haifa in northern Israel, Orna was a born artist, adorning everything and anything in colour and pattern including furniture, her fathers' cigarette boxes and even her bedroom ceiling.
Fully supported by her older sister, she made a connection to Picasso's work early on, "I would see his weird faces and think- I'm doing that!"
Her love of colour drove her experiment with beetroot juice, coffee and leaves, she recounts "I did some silly stuff but when I see something with a beautiful colour I like to use it."
Orna studied fashion in Paris but later abandoned the industry in pursuit of her first love, fine art. The limits that fashion design imposed on her became an issue, requiring her to make workable designs and involve other people in her process. Orna made her decision, "I really preferred art- there are no limits and I knew I could be free in my head so that's when I decided to leave fashion."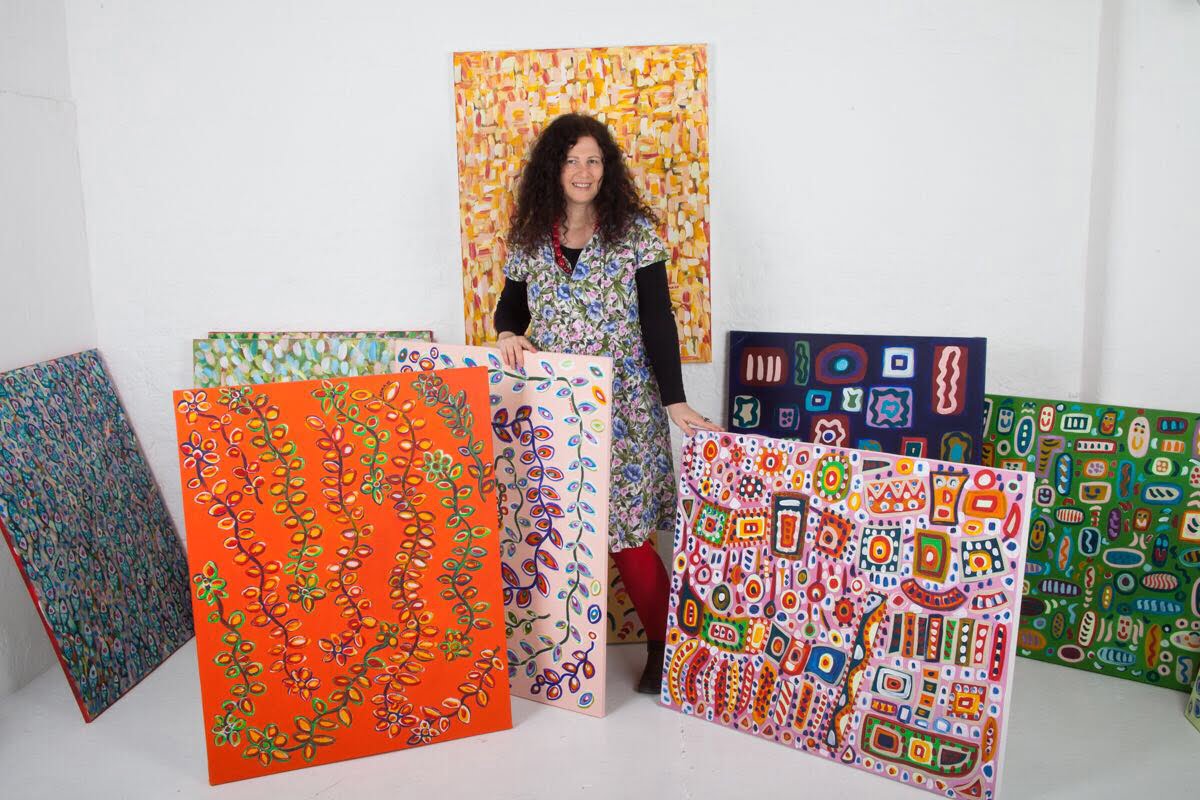 The Making of
The Scheerson-Pascal household is not short of creative energy. Now based in Brighton, Orna's home studio is filled with music as her two sons (17 and 20) play music together along with her husband.
She doesn't look to anything in particular for inspiration, it all comes directly out of her mind. In fact, if you want to know what it's like in there, look no further than her art. Orna describes her thought process as ordered, plucking tribal symbols and intricate patterns directly from her imagination.
"I'm obsessive," she reveals, "making hundreds of circles or fishes, I could have painted four hundred of them and not even have noticed."
Building up each piece in layers, Orna explains, "I just go over and over, I never get frustrated, usually it comes out the way I want."
When asked what advice she would pass on to other artists Orna offers, "If you feel like doing it just keep on creating. I'm not saying everyone should do it but I need to."
She really means this. There is no separating the artist from the person, they are absolutely one and the same entity. Orna's intuitive approach to her work is what allows her to harness the vast energy she has within and translate it into the feast of vibrant colour and pattern that we see.